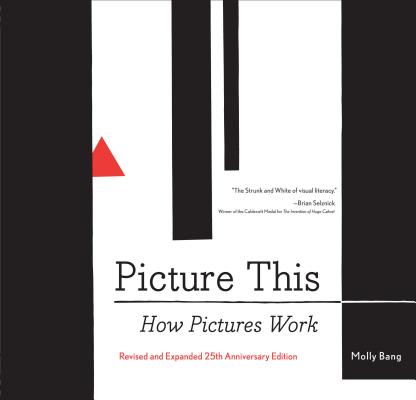 Picture This: How Pictures WorkRevised and Expanded 25th Anniversary Edition
Publication Date:
August 16th, 2016
Publisher:
Chronicle Books
Usually Ships in 3 to 5 Days
Description
Molly Bang's brilliant, insightful, and accessible treatise, revised and expanded for its 25th anniversary, that helps provide clarity to the timeless question "what is art?"
"A revised and expanded 25th-anniversary edition of Bang's go-to text about visual perception, or 'how pictures work,' delivers sublime design and picture-book–art commentary for readers and artists alike."—Kirkus Reviews
First published in 1991, Picture This has changed the way artists, illustrators, reviewers, critics, and readers look at and understand art.
In this revised and expanded edition, Bang's powerful ideas remain unparalleled in their simplicity and genius. Her thought-provoking text, brilliantly illustrated by step-by-step cut-paper illustrations of scenes from Little Red Riding Hood, includes thoughts about how the visual composition of images works to engage the emotions, and how the elements of an artwork can give it the power to tell a story.
Bang asks the right questions to get your wheels turning—Why are diagonals dramatic? Why are curves calming? Why does red feel hot and blue feel cold?—while the illustrations and thoughtful designs bring the words to life.
EXPLORE 12 PRINCIPLES OF VISUAL PERCEPTION: By experimenting with basic art elements (color, placement, size, shape, and space), Bang's unique and insightful work encourages you to answer one question: "How does the structure of a picture—or any visual art form—affect our emotional response?"
FOR ART STUDENTS & CREATIVES OF ALL AGES: Written in an accessible and engaging style, Picture This has opened a window of understanding for generations of artists. Her simple, powerful principles apply to painting, photography, graphic design, animation, and illustration of all kinds.
AN ART BOOK LIKE NO OTHER: Beyond a how-to guide or art reference book, Picture This has been called a "must-have book for anyone wanting to learn or teach about art elements and principles" (Kirkus Reviews). It makes an imaginative and inspiring gift for any artist or loved one who is interested in design.
Perfect for:
Artists, educators, and readers curious about the psychology of perception, emotion, and art
Gift giving for aspiring and experienced artists of all ages for birthday, holiday, art school acceptance, or graduation
Fans of Molly Bang and her award-winning work, including her Caldecott Honor children's books When Sophie Gets Angry—Really, Really Angry; Ten, Nine, Eight; and The Grey Lady and the Strawberry Snatcher
Adding to a collection of art theory, design, or art history books
Praise for Picture This: How Pictures WorkRevised and Expanded 25th Anniversary Edition
"Picture This is the Strunk and White of visual literacy. A must for anyone interested in reading and understanding images." -Brian Selznick, author of The Invention of Hugo Cabret
"An accessible and enjoyable introduction to understanding visual narrative."-School Library Connection