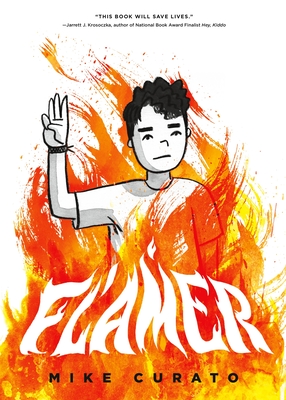 Flamer
Publication Date:
September 1st, 2020
Publisher:
Henry Holt and Co. BYR Paperbacks
Usually Ships in 3 to 5 Days
Description
Award-winning author and artist Mike Curato draws on his own experiences in Flamer, his debut graphic novel, telling a difficult story with humor, compassion, and love.
"This book will save lives." —Jarrett J. Krosoczka, author of National Book Award Finalist Hey, Kiddo
I know I'm not gay. Gay boys like other boys. I hate boys. They're mean, and scary, and they're always destroying something or saying something dumb or both.
I hate that word. Gay. It makes me feel . . . unsafe.
It's the summer between middle school and high school, and Aiden Navarro is away at camp. Everyone's going through changes—but for Aiden, the stakes feel higher. As he navigates friendships, deals with bullies, and spends time with Elias (a boy he can't stop thinking about), he finds himself on a path of self-discovery and acceptance.
Godwin Books
Praise for Flamer
"This book will save lives." —Jarrett J. Krosoczka, author of National Book Award Finalist Hey, Kiddo

"[Mike Curato] knows [boys] like Judy Blume knows a teenaged girl, and that's quite a bit." —NPR
"This is a story that will be read and reread, and for some, it will be the defining book of their adolescence." — Kirkus Reviews, starred review

"Masterfully nuanced and stunningly told, this is visual storytelling at its finest." —Booklist, starred review
"Curato has created a beautiful story of a teen who must decide if he will force himself into the mold of what he thinks a "normal" boy is, or if he can allow himself to live life on his own terms. An essential book that shows readers that they are never alone in their struggles." —School Library Journal, starred review
"Cleverly inked and masterfully told . . . . Both heartbreaking and joyous, Flamer acknowledges the brutal weight of hatred, yet inspires the courage to live." —Shelf Awareness, starred review
"I wish I had had this book fifty years ago." —The Horn Book, starred review
"Emotional and raw." —Publishers Weekly