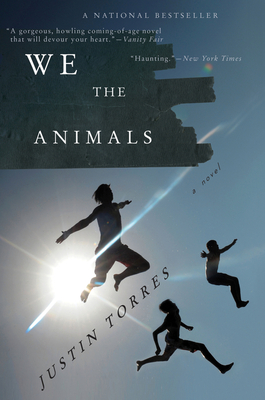 We The Animals: A Novel
Publication Date:
September 11th, 2012
Usually Ships in 3 to 5 Days
Description
The critically acclaimed debut from the National Book Award-winning author of Blackouts.
In this award-winning, groundbreaking novel, Justin Torres plunges us into the chaotic heart of one family, the intense bonds of three brothers, and the mythic effects of this fierce love on the people we must become.
"A tremendously gifted writer whose highly personal voice should excite us in much the same way that Raymond Carver's or Jeffrey Eugenides's voice did when we first heard it."—The Washington Post
Three brothers tear their way through childhood— smashing tomatoes all over each other, building kites from trash, hiding out when their parents do battle, tiptoeing around the house as their mother sleeps off her graveyard shift. Paps and Ma are from Brooklyn—he's Puerto Rican, she's white—and their love is a serious, dangerous thing that makes and unmakes a family many times. Life in this family is fierce and absorbing, full of chaos and heartbreak and the euphoria of belonging completely to one another.
From the intense familial unity felt by a child to the profound alienation he endures as he begins to see the world, this beautiful novel reinvents the coming-of-age story in a way that is sly and punch-in-the-stomach powerful.
"We the Animals is a dark jewel of a book. It's heartbreaking. It's beautiful. It resembles no other book I've read."—Michael Cunningham
"A fiery ode to boyhood . . . A welterweight champ of a book."—NPR, Weekend Edition
Praise for We The Animals: A Novel
"We the Animals is a dark jewel of a book. It's heartbreaking. It's beautiful. It resembles no other book I've read. We should all be grateful for Justin Torres, a brilliant, ferocious new voice."
—Michael Cunningham "Some books quicken your pulse. Some slow it. Some burn you inside and send you tearing off to find the author to see who made this thing that can so burn you and quicken you and slow you all at the same time. A miracle in concentrated pages, you are going to read it again and again, and know exactly what I mean."
—Dorothy Allison "In language brilliant, poised and pure, We the Animals tells about family love as it is felt when it is frustrated or betrayed or made to stand in the place of too many other needed things, about how precious it becomes in these extremes, about the terrible sense of loss when it fails under duress, and the joy and dread of realizing that there really is no end to it."
—Marilynne Robinson "We the Animals snatches the reader by the scruff of the heart, tight as teeth, and shakes back and forth—between the human and the animal, the housed and the feral, love and violence, mercy and wrath—and leaves him in the wilderness, ravished by its beauty. It is an indelible and essential work of art."
—Paul Harding, Pulitzer Prize–winning author of Tinkers "We the Animals marks the debut of an astonishing new voice in American Literature. In an intense coming-of-age story that brings to mind the early work of Jeffrey Eugenides and Sandra Cisneros, Torres's concentrated prose goes down hot like strong liquor. His beautifully flawed characters worked their way into my heart on the very first page and have been there ever since."
—Tayari Jones, author of Silver Sparrow "We the Animals is a gorgeous, deeply humane book. Every page sings, and every scene startles. I think we'll all be reading Justin Torres for years to come."
—Daniel Alarcon, author of Lost City Radio and War by Candlelight "A strobe light of a story...I wanted more of Torres's haunting word-torn world..."
—New York Times Book Review "Justin Torres' debut novel is a welterweight champ of a book. It's short but it's also taut, elegant, lean — and it delivers a knockout."
—NPR's Weekend Edition "A slender but affecting debut novel by Justin Torres...[a] sensitive, carefully wrought autobiographical first novel...The scenes have the jumbled feel of homemade movies spliced together a little haphazardly, echoing the way memory works: moments of fear or excitement sting with bright clarity years later, while the long passages in between dissolve into nothingness. From the patchwork emerges a narrative of emotional maturing and sexual awakening that is in many ways familiar...but is freshened by the ethnicity of the characters and their background, and the blunt economy of Mr. Torres's writing, lit up by sudden flashes of pained insight."
—New York Times "The communal howl of three young brothers sustains this sprint of a novel, which clocks in at a hundred and twenty-five pages. The boys, who imagine themselves the Musketeers, the Stooges, and the Holy Trinity all at once, are the wisecracking, lamenting chorus who bear witness to their parents' wild-ride marriage. Ma got pregnant at fourteen—she tells her oldest son she could feel him growing inside her, 'heart ticking like a bomb'—and now sleeps for days at a time and weeps whenever she tells her children she loves them; Paps, occasionally AWOL, surfaces to deliver meticulous, leisurely spankings. The collage of vignettes is elevated by Torres's twitchy prose, in which the pummel of hard consonants and slant rhymes becomes a kind of incantation: 'They hunched and they skulked. They jittered. They scratched...T —