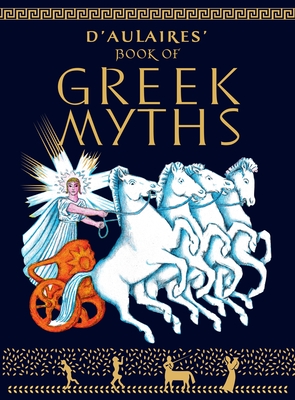 D'Aulaires Book of Greek Myths
Publication Date:
March 1st, 1992
Publisher:
Delacorte Press
Usually Ships in 3 to 5 Days
Description
"I doubt I would have grown up to be the writer and artist I became had I not fallen in love with D'Aulaire's Book of Greek Myths at the age of seven."—R. J. Palacio, author of Wonder.
Now updated with a new cover and an afterword featuring never-before-published drawings from the sketchbook of Ingri and Edgar D'Aulaire, plus an essay about their life and work and photos from the family achive.
In print for over fifty years, D'Aulaires Book of Greek Myths has introduced generations to Greek mythology—and continues to enthrall young readers.
Here are the greats of ancient Greece—gods and goddesses, heroes and monsters—as freshly described in words and pictures as if they were alive today. 
No other volume of Greek mythology has inspired as many young readers as this timeless classic. Both adults and children alike will find this book a treasure for years to come. 
"For any child fortunate enough to have this generous book . . . the kings and heroes of ancient legend will remain forever matter-of-fact; the pictures interpret the text literally and are full of detail and witty observation."—The Horn Book
"The drawings . . . are excellent and excitingly evocative."—The New York Times
A New York Public Library's 100 Great Children's Books|100 Years selection
An NPR 100 Must-Reads for Kids 9–14 selection
Praise for D'Aulaires Book of Greek Myths
"For any child fortunate enough to have this generous book . . . the kings and heroes of ancient legend will remain forever matter-of-fact; the pictures interpret the text literally and are full of detail and witty observation."
—The Horn Book
"The drawings . . . are excellent and excitingly evocative."—The New York Times
A New York Public Library's 100 Great Children's Books|100 Years selection
An NPR 100 Must-Reads for Kids 9–14 selection